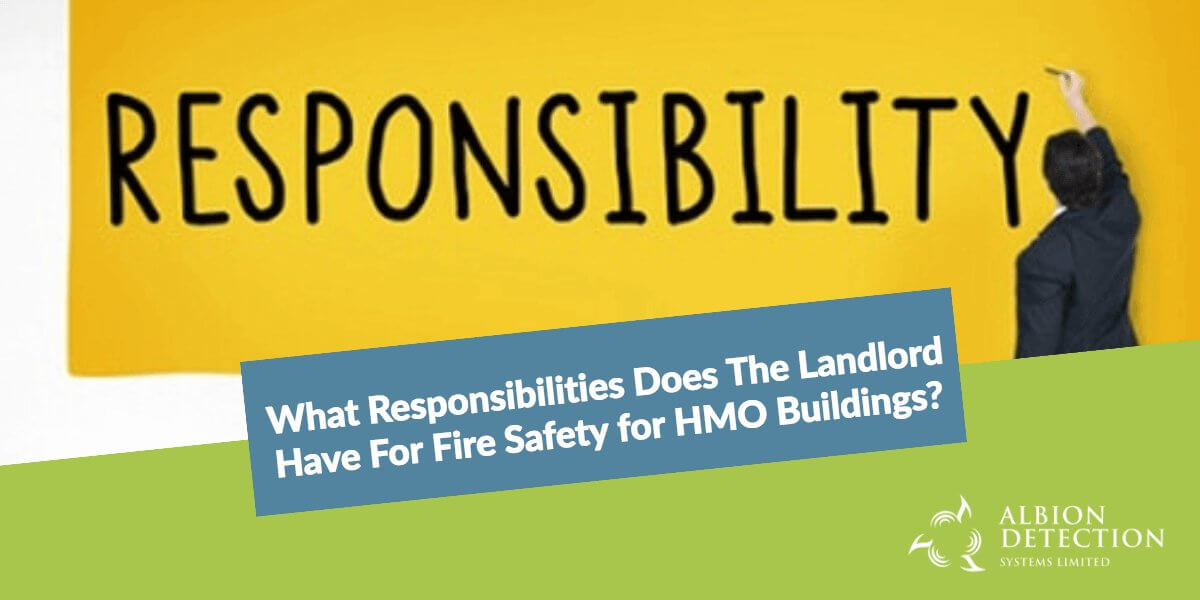 Introduction to What Responsibilities Does The Landlord Have For Fire Safety for HMO Buildings?
Fire Safety for HMO Buildings: If you are a HMO landlord, knowing your fire safety responsibilities for multi-occupancy buildings is part and parcel of keeping residents, staff and the building itself safe but, it's not always a simple process and there are myriad rules, regulations and requirements you'll need to get to grips with.
Failing to consult and apply the regulations could have serious legal repercussions in the event of an actual fire, leading to financial losses and damage to your reputation.
Negligence or ignorance are not valid reasons to fall short of Fire Safety for HMO Buildings requirements, making a clear fire safety plan, up-to-date procedures and equipment plus comprehensive evacuation planning part and parcel of your regular duties at the help of your HMO property.
A failure to do this puts tenants at risk and, potentially, emergency responders who arrive at the scene.
Knowing your responsibilities will ensure that the fire services are only called when it's necessary and that all tenants know where to go and what to do in the event of a fire.
However, some councils require you to have this licence even if some of the above criteria don't apply, so check with your local authority for specific requirements in your area.
This licence is valid for a maximum period of five years and you must renew it before this time period runs out.
Folded into the licence are certain requirements.
For example, the HMO must be suitable for the number of occupants staying there.
You also must send the council a yearly, updated gas safety certificate, install and maintain smoke alarms and retain and produce safety certificates for all electric appliances inside the property.
If, after assessing your property, the council asks for certain improvements then you must target these areas and bring them up to the required standard.
Fire Safety for HMO Buildings Regulations
When it comes to fire safety in multiple occupancy buildings, residential landlords must consider and abide by a number of strict regulations.
These are set out in the Management of Houses in Multiple Occupation Regulations 2006.
Becoming familiar with these regulations will put you in a better position to check the current status of your fire safety precautions against what is expected, so you know exactly how to provide the safest environment for tenants.
A specialist fire risk assessment for HMO properties is incredibly useful here, even after you are familiar with the regulations, as it can pinpoint areas of concern and opportunities for improvement – making compliance as a residential landlord that much easier.
One of the areas that often goes neglected is also one of the easiest – contact details.
The regulations for a residential HMO state that a landlord's name, address and contact telephone number must be clearly displayed for tenants.
Tenants should be given your contact details directly, but this is often easy to do via the tenancy agreement.
In terms of fire safety for HMO Buildings, there are a number of actions that you as a landlord must take to ensure compliance with regulations, including following best practise for evacuation of an HMO property in the event of a fire and the installation of appropriate residential HMO fire alarm systems.
All escape routes must be kept free of obstructions and maintained in good condition, with firefighting equipment also checked and maintained at regular intervals.
If you have more than four occupants, then there must be signs in the property showing where fire exits are located.
These notices must be placed in easy to see positions throughout the property.
It's a good idea to define rules for your tenants in terms of hallway and stair obstructions so that they know just what they need to do.
If these defined rules aren't followed, landlords need to be proactive about informing tenants – in written communications – that this needs to change.
This is one area that underlines the importance of keeping up-to-date, written records of all of your fire precaution and safety actions, should you ever need to prove your proactive approach.
Insurance for Fire Safety for HMO Buildings
It is also important for landlords to note that insurance requirements for HMOs are different from other types of rental properties.
This specialist type of insurance caters for multiple tenancy agreements for a licenced HMO property, whereas buy-to-let policies only provide cover for a property let under a single Assured Shorthold Tenancy.
If your property is defined as a HMO, then you must have HMO insurance cover.
The core of HMO insurance is about insuring your property against building damage – whether through fire or other means.
But HMO insurance is also important for landlords as many policies also cover loss of rent costs.
This provision ensures that you aren't financially squeezed when your HMO property is out of commission, giving you the breathing space you need to repair and get back to business.
At the same time, many policies also include an alternative accommodation provision for tenants.
Extensions are available from many providers to cover things like liability and legal expenses.
Specific Risk Assessments
It is also best practice to conduct a fire risk assessment for your HMO to ensure your full compliance with regulations and the safest environment possible for tenants.
Some local fire authorities will have their own regulations when it comes to risk and your fire safety for HMO Buildings measures, so it can be a good idea to include them in your own assessments.
If you don't feel confident in performing your own assessment, you can bring in a specialist risk assessor to take care of the task for you.
Ready To Get Fire Protection Focussed?
Our dedicated fire safety in multi-occupancy building guide can be downloaded here and provides everything you need to consider and implement to remain compliant.
With years of HMO fire safety experience, we're also on hand to help you conduct fire safety risk assessments and install appropriate fire safety equipment. Contact us to find out more.