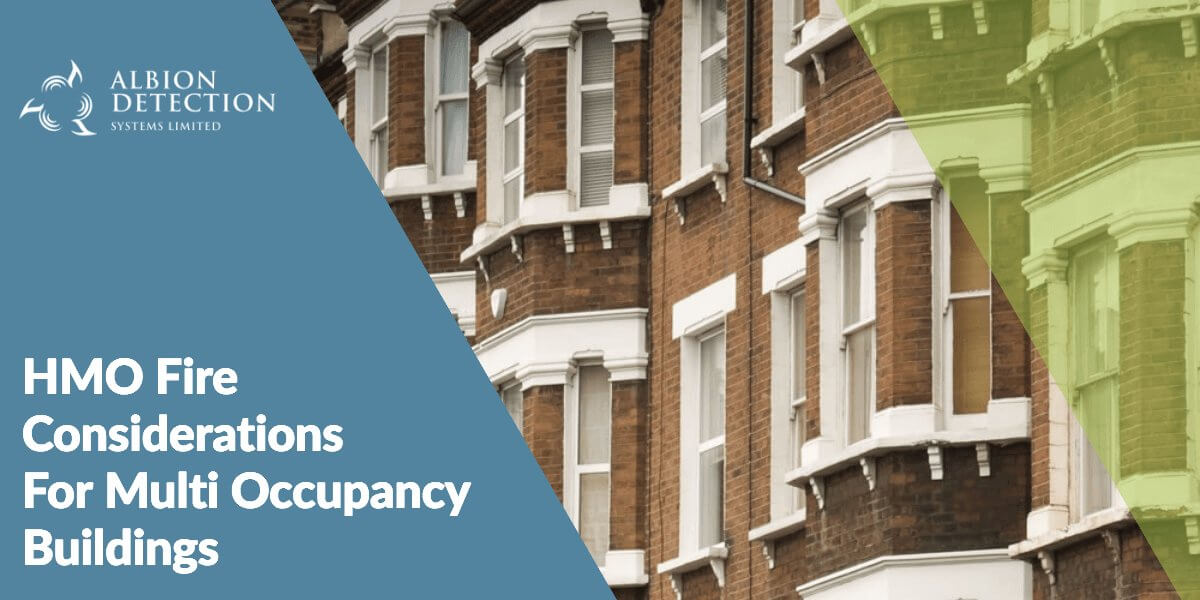 Introduction to HMO Fire Considerations for Multi-Occupancy Buildings
HMO Fire Considerations: Whether you are a landlord or a tenant, knowing the regulations, laws and best practice in the event of a fire in a house in multi-occupancy is vital.
In residential situations where multiple people are living in close quarters, the plan you have in place for alerts, evacuation and fire safety equipment installation is of the utmost importance.
Planned, regulation-based fire considerations will reduce the level of panic and chaos that often ensues when a fire is present at an HMO, ensuring that residents are evacuated in a timely manner – if this is required – and mitigate the damage caused to property.
Awareness around the key topics of fire safety in a multi-occupancy building are enormously important for anyone who lives or operates such a housing option.
This knowledge can mean the difference between safe, quick egress from a building or confusion and a potentially dangerous situation developing.       
At the same time, landlords who know their responsibilities and requirements can ensure a safe, prepared property for tenants and avoid the legal ramifications that often follow in the wake of poor or non-existent fire safety measures.
What Responsibilities Does The Landlord Have For Fire Safety for HMO Fire Considerations in Buildings?
When it comes to ensuring the safety of tenants, landlords of HMO properties have certain fire safety responsibilities that apply beyond those required for a single occupancy property.
Some landlords may not be aware of these enhanced requirements, so it pays to read up on the areas where you may have to take extra care, install additional safeguards and apply extra fire safety measures.
This includes ensuring that access and egress from the property is easy and risk-free. Exits and entrances to the building must be obvious and easy to use, with no obstructions or other obstacles which may prevent tenants from leaving and emergency services from gaining entry.
Alongside this, landlords need to ensure HMO Fire considerations and all proper safety measures are in place, including functional, regularly tested smoke alarms.
Annual gas safety checks must be carried out along with thorough electric safety checks every five years.
The landlord is also required to ensure that the property is not overcrowded.
It is also vital for HMO landlords to conduct a detail risk assessment of their property, noting any issues and acting to rectify them in a timely manner.
Landlords also must have specific, specialised insurance in place-  this is not just mandated by law, it also provides a greater level of cover in the event of a fire at the property.
What Is The 'Stay Put' Policy In the Event of a Fire at a HMO?
In the event of a fire, the natural reaction is to try and leave the building as quickly as possible.
However, in a multi-occupancy property, this isn't always the safest option.
Multiple – sometimes dozens or more – people trying to exit a building in a panic simply creates a more volatile, dangerous environment than already exists.
This is where the stay put policy for fires in an HMO building comes into play.
In a residential HMO situation, many fire brigades use the stay put policy to ensure the stairwells and access and egress points of a building remain easy to use.
This enables firefighters on the scene to assess the situation and isolate a fire if one is found.
If the fire is more robust, they will then usually stage a phased evacuation of the building.
Some fire brigades even prefer HMO fire considerations to ensure properties have isolated sounders – sound-emitting fire alarms – and call points, to prevent incidents of false call outs.
This can vary from authority to authority, and there are lots of grey areas around the topic.
However, residents in an HMO would arguably want to know if there is a fire in their building so they can take appropriate action.
Many people aren't even aware of the stay put policy at all, and so the system can quickly fall down in the event of a real fire.
What Access and Egress Routes Should Landlords of HMO Buildings Implement?
The fire safety access and egress routes for any building depend on specific build qualities and, as such, different policies will apply to different properties.
However, many HMOs have a single, central staircase and so access and egress for residents must be a priority for landlords.
This means ensuring these points are easy to open and not blocked or in any way prevent access or egress.
At the same time, landlords need to ensure these areas are secure and access restricted to the residents of the building.
Commercial sites require different egress routes from the main option.
Access and egress is not just about how your tenants will move in and out of the building, though.
This area of consideration also covers things like signage and emergency lighting, which should be clear, informative and functional.
This is a hugely important requirement, as it is what will help tenants find their way in the event of a fire.
During a fire, smoke can cause an enormous amount of confusion and disorientation, and so tenants require strong emergency lighting and clear signage to guide them to safety.
The Role of Fire Alarms in HMO Fire Consideration Safety
When it comes to fire alarms in HMOs, many fire brigades don't tend to like flat-specific detection.
This is because false alarm rates can be very high from individual flats, with things like burning food often setting off alarms unnecessarily.
For the local fire brigade, this means wasted trips and, moreover, wasted funds.
There are many fire alarm systems available for HMOs, with some designed to mitigate false alarms and the associated disruption.
One such options is a 'hush button'.
This button is wired to a fire detector in an individual flat, with the occupant having the ability to silence or 'hush' the alarm if it is activating simply because of some burned toast, for example.
However, if the occupant isn't inside and the fire detector alerts, it will wait a specified amount of time and then alert the whole building.
So, there are options out there that propose to reduce false alarm rates while still keeping HMO fire considerations for residents safe in the event of a fire.
Of course, all occupants of HMOs desire a system that is as robust and quick to alert as possible, and so this area requires careful planning and thought from landlords – perhaps working in-line with local fire authorities or an accredited fire risk assessor to find the best solution.
Evacuation Best Practice for HMO Buildings in the Event of a Fire
Evacuating people from an HMO comes with its own challenges and best practises – all of which differ from those applicable to other types of property.
It's vital to have a clear, considered plan when developing your HMO fire safety evacuation policy and this is again an area where professional support and guidance is highly recommended.
As we have seen, the stay put policy is often used in buildings with multiple residents, as this allows the fire brigade the space and time they need to isolate and extinguish some fires.
In cases where full evacuation is necessary, this can be married with a phased evacuation plan, which ensures the safety of all tenants and reduces the chance of stairwells or other exits becoming clogged and, in turn, transforming into another hazard in the midst of what is already a dangerous situation.  
There are numerous regulatory standards which evacuation policies and routes must adhere to.
BS5839 – which deals with fire detection and alarm systems for buildings – requires thorough consideration and careful consultation in particular when planning your evacuation measures.
An addressable system can also form a core part of ensuring the orderly, safe movement of people away from danger and is a powerful addition to phased evacuation plans.
If you are taking over an existing property as a landlord, it pays to be aware of the existing fire precautions.
Naivete or ignorance is not a valid excuse and, should the worst happen, the landlord's actions and precautions will come under intense scrutiny.
What's the Difference In Fire Safety For Residential Versus Commercial HMO Buildings?
There are clear differences between commercial and residential fire regulations and the licence you need to operate an HMO.
Commercial buildings have relevant standards they must abide by, depending on their size, build properties and other factors.
When looking over a commercial building, a fire assessor or insurance company will often insist on a certain level of fire protection system.
This again falls under the BS5839 standard, specifically 'Life Protection' and 'Property Protection'.
There are different scales of these systems with different levels of system protecting different areas and offering different functions.
At the same time, HMOs require a specific licence for landlords to operate, and you need to be aware of this.
When we look at residential properties – which many HMO fire considerations fall under – the regulations can be a little harder to define.
An apt example would be the comparison of a hotel and a tower block of flats.
The hotel, because it is a commercial building, has certain systems and regulations in place to protect visitors, but these same regulations wouldn't apply to residents of the tower block. Some might say this seems unfair or even dangerous.
Ultimately, it is up to the landlord to understand obligations surrounding fire safety in the residential HMO building and apply them accordingly to fire security measures.
[vc_single_image image="328″ img_size="full"]
The Consequences of Neglecting HMO Fire Considerations Safety
With the huge rise of HMOs in the past half-decade or so has come to an increased need – but sometimes not an increased awareness – for the right fire safety plan.
As universities expand, for example, many students will find themselves living in halls of residence.
Students – and their parents – want to be sure that the accommodation they have acquired has the systems and the evacuation plan in place to ensure safety in the event of a fire.
Halls of residence – because they are commercial buildings – have robust systems in place and staff-directed plans of action in case a fire does break out.
Students living off-campus in an HMO may not have the same underlying safety net, however,
Many students may not even be aware of the regulations and requirements their landlord is bound to provide.
Indeed, some landlords may not even be aware of their responsibilities themselves.
With some research and input from local fire safety authorities, landlords can ensure they are up to code and providing the safest environment possible for tenants.
It is also vital for landlords to know the regulations around electricity supply to certain areas – including access and egress points – and how this needs to be structured to ensure compliance.
The True Cost of Dealing with False Alarms
False alarms are one of the biggest drains on the resources of our nation's fire services.
They take fire brigade units away from other areas where they may be sorely needed, and results in costs that many fire brigades can ill afford.
As fire brigades across the country face a squeeze on budgets, ensuring fire alarms are only activated and fire services dispatched when they are truly needed is of great importance.
This is where options like the C-Tech 'Hush Button' can be extremely useful.
This system alerts to a specific rise in heat or smoke, which can often be attributed to something innocuous like burned food or an ironing mishap.
The tenant then has the option to 'hush' the alarm and, thus, there is no building-wide false alarm and no need for the fire services to attend.
If, however, the source of the fire is genuine, the alarm will alert the whole building to the issue and the proper actions can be taken.
Whilst it is important to minimise false alarms as a HMO landlord concerned with fire safety, it is also important to provide tenants with the means and the alerts necessary for HMO Fire Considerations if a real fire should occur.
In this way, the design and implementation of your alarm system is a balancing act between ensuring proper use and keeping people safe.
The Value of Specialist Fire Risk Assessments for HMO Landlords
When assessing your HMO property for fire risks, it doesn't need to be a confusing, arduous process.
Organisations like firesafe.org provide comprehensive guides to ensure that you have checked everything you need to and are compliant with all regulations, and specialist assessors can also be appointed to audit HMO fire considerations safety measures.
The fire risk assessment process revolves around a methodical examination of the different areas of the HMO and assigning a risk factor, then working to reduce the areas where risk is apparent or could develop.
This includes assessing the level of fire precautions in common areas and reducing any risks to the lowest possible level.
Alongside this, a good risk assessment will also look at things like escape routes, emergency escape lighting, the need for signage and recording any observations and actions taken.
It's important to not just think of fire risk assessments as a box-ticking exercise and treat the process with the utmost respect.
It is through this assessment that potential risks and issues are offset before they manifest, and the worst possible time for this to happen is during an actual fire.
A HMO fire considerations risk assessment is about protecting yourself as a landlord and protecting your tenants, giving clear advice on what to do in the case of a fire and putting them in the best position to follow this guidance.